If you're struggling to decide on either a chihuahua harness or a collar, we definitely recommend a harness for your chihuahua. The harness prevents any harm and discomfort that the use of a collar has. Chihuahuas may act big and tough, but are very small and fragile. Any strong tug while using a collar could seriously harm it. Using a harness for a chihuahua is safer because the counter force is evenly distributed throughout the torso and body and not just the throat like a collar does.
A main problem when shopping for a harness for chihuahuas, is if it will fit your small dog. I've saved you the hours of research and have selected the specific harnesses that will fit a chihuahua perfectly. I've made a quick list here for you, or read on to learn about the pros and cons of each.






	
Product
Qualities
check on Amazon





	
Ecobark
Eco friendly recycled materials, many colors, durable. 
Check price on Amazon



	
Pawtitas
Adjustable, reflective, easy to put on. 
Check price on Amazon



	
Smalllee
Adorable stylish design, durable, leash included. 
Check price on Amazon



	
WZPB
Super soft, comfortable, breathable mesh. 
Check price on Amazon



	
Thinkpet
Completely adjustable, comfortable, holds water for cooling capabilities. 
Check price on Amazon 



	
Voyager
Comfortable easy to put on design, many colors, high star rating.
Check price on Amazon







I love the fact this harness is made from recycled bottles. If you're someone who cares about the environment and loves being green, this product is perfect for you.
Comfort is always a concern when considering harnesses and they didn't slack in this department, many people say their chihuahua wears this harness 24/7 without even noticing it. A no pull harness for a chihuahua that actually fits, and is comfortable! Easily one of the top choices to consider for your little bundle of sunshine.
Pros
Comes in many colors to choose from.
green – made from recycled materials.
Two different styles to choose from.
made to fit small dogs.
made specifically to prevent escaping with the correct fit.
Cons
A few reviewers say it fits badly on their dog's but this is probably a result of them not measuring their dog properly and referring to the sizing chart. Some also say they have some problems with the clip where others claim they have no problems at all.
I love the emblem and catch phrase of this harness – Peace, love, pawtitas. Using emojis as the emblem is actually pretty clever, I think they might be on to something here.
Everything from everyday walks to training is perfect for this harness. The comfortable design makes sure to leave enough room at the leg holes so as not to cause any discomfort or unnecessary rubbing. Made from mesh, this harness will keep your chihuahua cool much better than other fabrics. Not only will it keep your chihuahua cool, but it will also keep your chihuahua safe by making it more visible. This harness uses reflective material that will shine in the lowest of lights.
Pros
Reflective material
Double rings for your leash for extra security.
made to avoid discomfort in problem areas
mesh material for breathability
Cons
Under 2.5 lbs seems to be too small for this harness, though Anything under that for long is an extreme rarity and should grow into it quickly. Some reviewers speak about faulty clips but it doesn't seem like a normal occurance.
Polka dots will forever be a cute design on anything, and for this chihuahua harness, it's no exception. If you're aiming for cute, this one is worth looking at. Adorable looks that doesn't lack in the design department either, made escape proof with a comfortable neck area that won't choke your little chihuahua. I absolutely love the design of the loops made from alloy that just gives it a contemporary sleek look that's not bulky and unattractive.
Pros
Super cute design for male and female chihuahuas
escape proof to keep your chihuahua secure
breathable mesh design to keep your pup cool
comes with a matching polka dot leash which adds to the adorability levels
Cons
Some have issues with the way the back is designed for when your dog is trying to scratch its back, but I think that's an issue with all harnesses for when trying to scratch while wearing anything. One other low review about the loop grabbing the hair of their dog but it seems like that's the only issue of this type.
This is a one of the highest rated harnesses and it's easy to see why. The stylish fashionable design fits any color or type of dog as well as coming in black and pink colors. The super soft mesh and design of the harness is meant to be for prolonged use. Many chihuahuas are prone to being very timid but a simple fix is a nice harness that will hug and make your chi feel secure. Adjustable design to make it a perfect fit for your little pupper.
Pros
Very comfortable design
breathable mesh
cute design
durable material
made for prolonged use
Cons
Not very many cons to this one, a bad review about fitting for dachshunds, but those are awkward fitting dogs. Another had an issue with their dogs hair sticking to the mesh but for chihuahuas it's an all together great harness.
Worrying about a harness that fits correctly is a thing of the past after choosing this product. This harness has 4 adjustable points for maximum compatibility for all dimensions of your little chihuahua. Neon color and mesh interior that can store water to help cool your chihuahua on hot days. Reflective multi-dimensional edges that keep your chihuahua visible on dark nights. All packed into a light weight sleek design that your chihuahua will love and will keep it safe.
Pros
Very adjustable design
Reflective from all angles
Attractive neon coloring
Lightweight
durable
Cons
Some claim the sizing chart is a bit off although it's probably that they didn't take the time to measure their dog. Other low star reviews claim the clamps are difficult to undo which isn't really a bad thing in my opinion, it just means it's more secure.
The step in and securable design makes putting this harness on a chihuahua quick, easy, and painless. Majority of the harness is made from mesh and super soft materials which won't chafe your little fluffer anywhere. The no pull design will make sure not to pull on your dogs trachea so no injury will result from any quick dashes away. Extremely breathable design will make sure your pup isn't getting overheated on hot days. This product has an insane amount of great reviews and high star rating.
Pros
Large surface area of mesh for complete breathability and comfort
many colors to choose from
Quick and easy to put on
all weather design
reflective sides
Cons
Not for the super small teacups or very young chihuahuas but a more grown chi will fit it perfectly. Some reviews also claim their dogs were able to slip out of the harness but its not an often occurrence.
Chihuahua safety
For safety and comfort a chihuahua harness will evenly spread any pressure across their torso and not on their throat. In case you need to quickly pull your chihuahua away from something, the harness is the best choice. The collar may be faster to put on, but a harness for your chihuahua is the safest, and can also be cute too.
Chihuahua harness size – how to measure your chihuahua
As one of the smallest dogs in the world, with a breed that varies in torso sizes, it's important to know which chihuahua harness size to buy that will fit perfectly. When measuring the neck, you must take the measurement from the base of its neck. When measuring the chest, you should be measuring from behind it's front legs. Remember also that the neck hole must be big enough to fit over your chihuahuas head.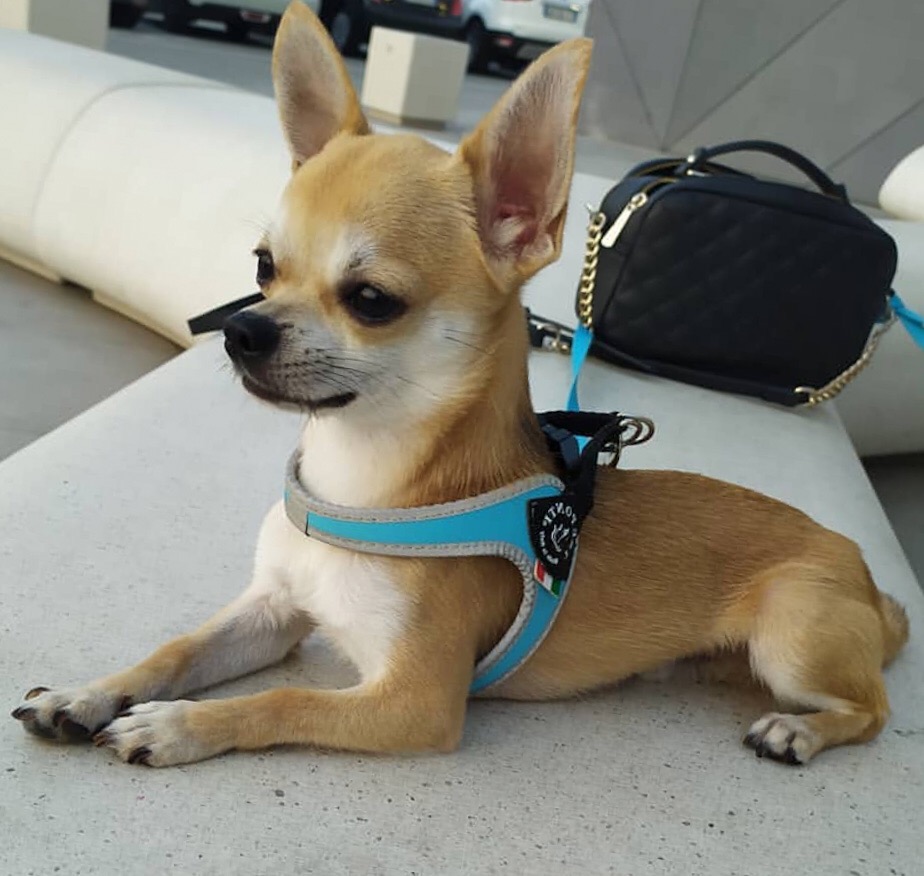 All of the products here are amazon products and in each description they show sizing charts so you may accurately choose which chihuahua harness is a perfect fit. If you see one you like, just click on the affiliate links. Looking for more cool harnesses for a chihuahua? We've got you covered!
Or if you're set on a collar, you can check out our chihuahua collar page